 Carabao Energy Drink 150ml | 卡拉宝 能量饮料 150ml
0.89

 €
0.89

 €
0.78

 €
Option not available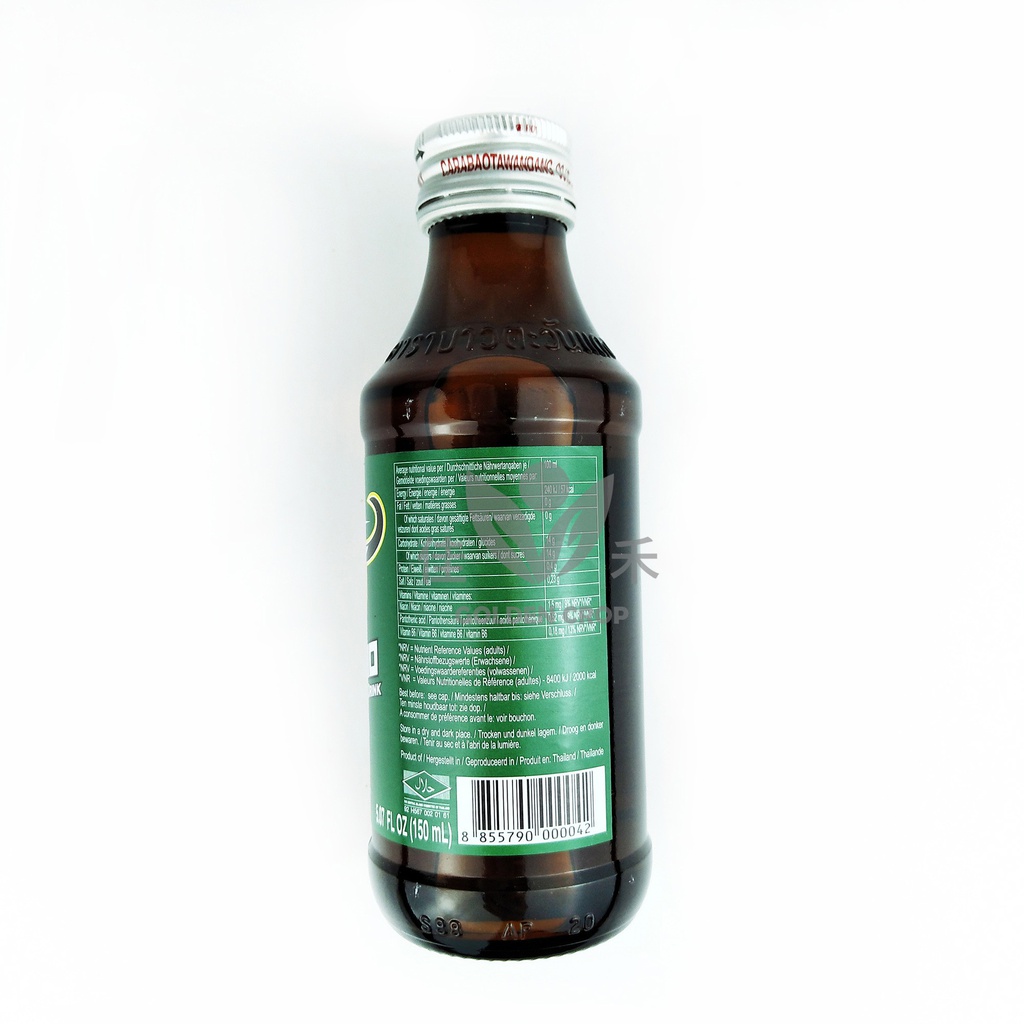 Carabao Energy Drink 150ml | 卡拉宝 能量饮料 150ml
1
---
Fresh goods and frozen goods will be only delivered by
home delivery service at Helsinki, Vantaa and Espoo.
Thank you for your understanding.
Kofeiinia sisältävä virvoitusjuoma. Ei suositella lapsille eikä raskaana oleville tai
imettäville naisille. (Kofeiinipitoisuus: 32mg /100ml) / En läsk som innehåller koffein. Rekommenderas inte för barn eller gravida eller ammande kvinnor. (Koffeininnehåll: 32mg / 100ml)
AINEKSET/INGREDIENSER: Vesi, sokeri, happamuudensäätöaine (E330), tauriini 0,4%, aromi,
kofeiinia 0,032%, innosteli, säilöntäaine E211, väriaine: E102, E129, vitamiinit (Niasiini,
Pantoteenihappo, vitamiini B6). / Vatten, socker, surhetsreglerande medel (E330), taurin 0,4%,
arom, koffein 0,032%, upphetsad, konserveringsmedel E211, färga: E102, E129, vitamin
(niacin, pantotensyra, vitamin B6).
E102, E129 Voi vaikuttaa haitallisesti lapsen aktiivisuuteen ja tarkkaavaisuuteen.
E102, E129 Kan ha en negativ effekt på aktivitet och uppmärksamhet hos barnet.
      SISÄLTÖ/INNEHÅL: 150ml
Parasta Ennen/Bäst före: katso pakkaus/se förpackning
ALKUPERÄMAA/URSPRUNGSLAND: Thaimaa / Thailand
Ravintoarvo / Näringsvärde  Per 100ml
Energiaa / Energi: 240kJ/57kcal,  Rasva / Fett /: 0g, josta tydyttynyyttä / varav
mättat: 0g, hiilihydaatit / kolhydrat: 14g, josta sokereita / varav sockerater: 14g,
proteiini/ protein: 0,4g, suola / salt: 0,23g, niasiini / niacin: 1,5mg / 9% NRV*/VNR*,
pantoteenihappo / pantotensyra: 0,52mg / 9% NRV*/VNR*, vitamiinit B6 / vitamin
B6: 0,18mg / 13% NRV*/VNR*.
*NRV= Ravinteiden viitearvot (Aikuinen) / Näringsreferensvärden (Vuxen)
      *VNR= Ravitsemukselliset viitearvot (Aikuinen) / Näringsmässiga referensvärden (Vuxen)

To install this Web App in your iPhone/iPad press
and then Add to Home Screen.